Frequency control system related introduction
Frequency control is one of the main measure of saving energy, improving production processes, improving product quality, and improving the operating environment. Frequency control is recognized as the most promising speed control method due to its high efficiency, high power factor, excellent speed regulation and braking performance. Now, the frequency converter has been widely used in the rotating machinery equipment of wind turbines and water pumps for power generation, heating, chemical, metallurgy, mining, pharmaceutical, oil field, printing, food and other industries.
Our company undertakes the transformation and new construction of high and low voltage frequency conversion systems and sell numerous well-known brands of frequency converters as a agent domestic and overseas.
BHHT-3000 low voltage frequency converter speed control system introduction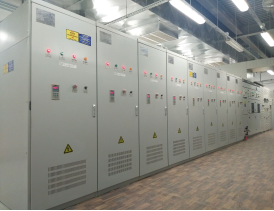 1.Product Overview
The core components of the BHHT-3000 frequency converters are imported well-known brand. It is a low-voltage variable frequency speed control product specially designed for fans, pumps and other required with variable flow loading operation low-voltage variable frequency. The frequency converter can effectively control the constant pressure system, constant flow system, constant liquid level system, constant temperature system, etc. Thereby, it can achieve the goal of energy saving, reducing consumption and extending the service life of the equipment.
Through the frequency converters to optimize the PWM control technology and the overall design of electromagnetic compatibility, it can greatly meet the user's environment requirements for low noise and low electromagnetic interference in the application places.
2.Product Features
BHHT-3000 low voltage frequency converter speed control system has two high and one low characteristics:
High production standard: They are designed and manufactured in accordance with IEC standards and obtained the CE certification issued by the authority including LVD and EMC, passing the type test of the IEC standard and obtained the corresponding type test report.
High performance: Integrating international famous brand frequency converters, using a unique control method to achieve high torque, high precision, wide speed drive, to meet the trend of high performance of variable frequency speed control system. It has a high capacity with anti-tripping performance and adapting to the harsh grid, temperature, humidity and dust that greatly improves the reliability of products.
Low failure rate:
The components are all made of renowned international brand products, which minimizes the failure rate of the converters body and surrounding electrical and control components. Combined with advanced and reliable layout design, it makes the fault rate of the series frequency conversion cabinets extremely low, even reaching batches fault rate at 0.And it is capable of long-term storage, for example, a total amount of 60 BHHT-3000 frequency conversion cabinets on a certain site, after shipping to the construction site and stored for 18 months without electricity, reaching 0 malfunction when officially power on.